WINTER
Starts April 25, 2019 at 7:30 a.m. Pacific
This is the third season of Series 8.
Next change: May 2 at 7:30 a.m. Pacific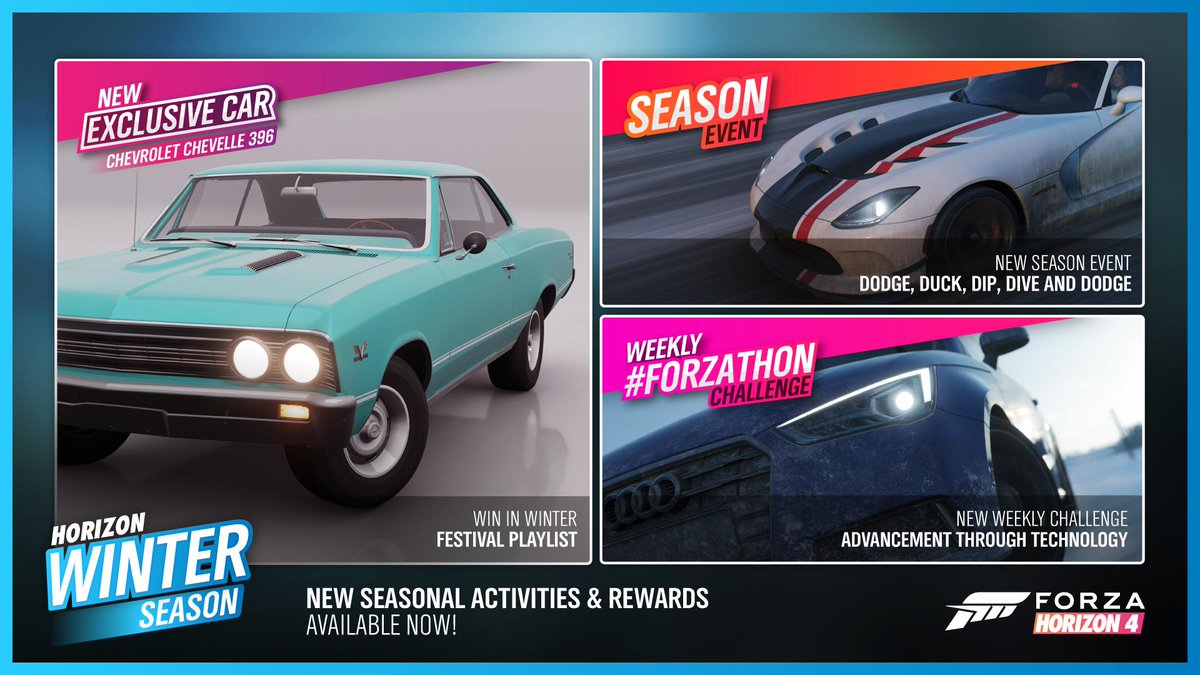 BARN FIND RUMOR:
#FORZATHON SHOP
Note that #Forzathon Shop prices have changed.
700 FP Car: 2005 Hot Wheels Ford Mustang (existing Exclusive model)
700 FP Car: 2014 Jeep Grand Cherokee SRT (existing Exclusive model)
?00 FP Horn: Windows XP Shutdown
?00 FP Clothing: Warm Mittens
Wheelspins cost 40 FP & 150 FP
FESTIVAL PLAYLIST REWARDS
50% Summer reward: 1967 Chevrolet Chevelle (newly added Exclusive model)
80% Summer reward: 2016 W Motors Lykan Hypersport (3,400,000 CR value)
50% Series Completion: 2016 Alfa Romeo Giulia FE (existing Exclusive)
80% Series Completion: 2010 Ford Crown Victoria (existing Exclusive)
#FORZATHON

WEEKLY CHALLENGE: [must be done in sequence to count]

Earn 200 FP from this challenge plus 20 per Daily
Own and drive the 2015 Audi S1
Win 2 Street Scene events in your Audi S1
Reach 155 mph in your Audi S1
Win 2 Dirt Racing Series events in your Audi S1
SEASONAL EVENTS
The Trial Co-Op Championship: "Mud & Guts" | Mountain Foot Cross Country | A800 Offroad Buggies
Reward: 2014 Terradyne Gurkha
Seasonal Playground Games: | Mudkickers'4x4 | A800 Offroad
Reward: Karate Master emote
PR Stunt: Roman Ruins Danger Sign | 557.7 feet
PR Stunt: Northbridge Speed Trap | 180.0 mph
PR Stunt: Broadway Commons Speed Zone | 165.0 mph
Championship: "Winter Community Championship" | Mudkickers' 4x4 Scramble | A800 Sports Utility Heroes
Championship: "Lakehurst Modern Rally" | White Horse Hill Trail | B700 Modern Rally
Championship: "Dodge, Duck, Dip, Dive, and Dodge" | Reservoir Run | S1 900 Dodge Vipers
Reward: Quack! Wellies clothing
Championships must be completed on Expert or harder Drivatar difficulty to earn the unique reward. To earn the Trial reward, team members must all race against Unbeatable Drivatar difficulty and win as a team against the Drivatars.
Winter also means the lake drag strip is available.