If you only want 50% you can skip it.
I did it with my usual X class rally/snow tyre Mosler, but it did take me a few tries. It didn't help that it was night time. The key with that speed zone is to cut across the inside of corners off the track as far as it will let you, to straighten the whole thing out as much as possible.
---
Speed Zone: Carden Creag ( you are allowed to cut the road really fast ) → 165Km/h or 170Km/h
Code Tune KTM X-BOW GT4 2018:… 856 315 166
Definitely this one. Is it even possible to do it without straightening corners?
As for PGG → did it with AMC Hornet (Bond car) with winter tires. Quite slow, but you can beat everyone at turning.
You can put winter tires also on 79 Camaro and Firebird. But they are much heavier.
What was the target for this? Presumably 100mph (sorry if you are in kmh)? I can do 101mph with relative ease in a standard non corner cutting run. I see you have done 109mph presumably with corner cutting but that's a good bit more than is needed for the weekly target.
Do you own a Hoonigan Ford RS200? I use a tune by R e Z o a k and had no problem with the speed zone. That's S2 but there are also X class tunes which presumably would make it easier.
Yes, tried this car as well. No Wintertires though.
I'm missing out by 2 - 10 km/h…
I'll give it another go with different tunig…
YES! I did it!
Thx
See if it helps you do the challenges
Forza Horizon 4: Festival Playlist Events Winter: Percents,Tunes and Rewards - Until 30/04/20 - SERIES21
For players who need help: Percents,Tunes and Rewards:
50% Winter: Mercedes AMG E63 S 2018
80% Winter: Honda NSX-R 2005
50% Series 21: Hummer H1 Alpha 2006
80% Series 21: Mclaren F1
Photo / Picture: Percents,Tunes and Rewards

Photo / Picture: Rewards - Winter Season

Share Codes: Pause Menu, Event Activations, or Creative Hub. You can use this code to get to a specific Event Blueprint quickly, and easily.
Share Code: Garage → Designs & Paints → Find New Designs → Search
Share Code: Garage → Upgrades & Tunes → Find → Search
Forzathon Weekly: Extreme Offroad vehicle
Code Tune QUARTZ REGALIA TYPE-D 723:… 109 091 601
Share Codes Event Blueprints - Forzathon Chapter 2: Complete 5 Cross Country Series Events in your Extreme Offroad vehicle in 06 seconds:… 147 186 622
The Trial Co-Op: Ice Gauge
Code Tune QUARTZ REGALIA TYPE-D 723:… 724 934 102 or 109 091 601
Playground Games: Winter
Code Tune CHEVROLET CAMARO Z28 1979:… 116 165 408
Danger Sign: Rannoch Shelf Vista
Code Tune MOSLER MT900S 2010:… 187 290 668
Speed Trap: Copse
Code Tune MOSLER MT900S 2010:… 187 290 668
Speed Zone: Carden Creag ( you are allowed to cut the road really fast )
Code Tune KTM X-BOW GT4 2018:… 856 315 166
Championship: Tip of the Iceberg
Code Tune ASTON MARTIN DBR1 1958:… 114 821 372
Championship: Getting Cold Street
Code Tune HONDA S2000 2003:… 176 770 284
Championship: Cold Storage
Code Tune HOLDEN SANDMANN HQ PANEL VAN 1974:… 157 555 185
PS.: Also available on Twitter ( https://twitter.com/ForzaMotorsport or https://twitter.com/ForzaHorizon or https://twitter.com/WeArePlayground or http://www.forzamotorsport.net and Imgur: The magic of the Internet and Redirecting... and https://twitter.com/Betinhogvzdias ) every season change
I hope this helps you to do the challenges
I successfully did the speed zone pr with an upgraded rs200 hoon. No tuning. Driving was very sloppy.
Usually I do these hood-cam, this due to the dips and rolls on this one its hard to predict the corners, so I do 3rd person. AWD drift suspension/tires Konessisggsgessig, didn't beat it soundly but got the job done on attempt 3. Helps to watch YouTube masters attack these things sometimes.
Cheers - so a reasonable amount of time in hand with a well tuned Hoonigan. Sounds like it's a lot tougher in other options. I have parked up at the side whilst waiting for a Team Adventure and have seen one guy go up and down it repeatedly in a Subaru - hope he's at least getting closer!
Hoonigan RS200 with DharmaBum Dave S2 998 tune vs winter speed zone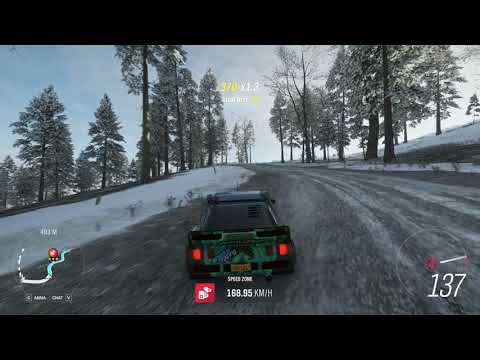 Edit
Just did trial again with Track-Tor and it easily won all 3 races against AI and rest of the players (all actually had tuned cars), even last race, where I got a bit of help and smacked the solid wall at the start.
Track-Tor needs to take corners a bit slower, but just powers trough the rest

I use the Rimac for everything.
I do this too. ("You're my favorite car, buddy, you gotta work with me here. One more try, you can do it.")
I have weird habit to use Bugatti Veyron and Divo (winter) for PR stunts despite knowing there are better options. Took some time to get this seasonal Speed Zone right with Divo, but I just knew it, car can do it

When it comes to most of these PR Stunt challenges, tune doesn't really matter as long as you can drive. IMO the car choice is essential.
The usual list:
Hoonigan RS200 (clears all dirt Speed Zones, and most Danger Signs)
Hoonicorn (wild card for Drift Zones, including dirt ones, and some Speed Zones)
Mosler MT900S (clears tarmac Speed Zones)
VW I.D. R (clears slow tarmac Speed Zones)
Koenigsegg CCGT (extremely overpowered, clears tarmac Speed Zones and most Speed Traps)
Koenigsegg Agera RS (excellent for Speed Traps)
Rimac Concept Two (king of Speed Traps and tricky Danger Signs, requires skills)
Formula Drift Viper (clears Drift Zones)
Formula Drift Corvette (clears Drift Zones)
Numbered Ford RTR Mustang Drift (clears Drift Zones)
Another week, another round of tunes. I'm still trying to plot my best D-class Van/Ute, so I'm going to hold off on posting single-player championships until I have that all sorted out.
Weekly Challenge:
Own and drive any Extreme Offroad vehicle
Complete 5 Cross Country Series Events in your Extreme Offroad vehicle
Car Used: Local Motors Rally Fighter
Tune: Kumite - 113 675 257
This is a tune I made for an A-Class Extreme Offroad PPG series a while back, but it works well for this week's Trial, too. Unfortunately, I did need to run the trial more than once (more on that below), but that gave me more than the 5 Cross Country races I needed.
Get a 2 star score or better in any Speed Zone
Location: Lakeshore (SW side of Derwent Water, S of the ice drag strip)
I chose this Speed Zone at random, but the results were good. Didn't 3 start it because I smacked a stone wall near the end, but the Rally Fighter did manage to clear 2 stars quite well.
Get 10 Ultimate Wreckage Skills in your Extreme Offroad vehicle
Location: SW of Derwent Water
I had planned on doing this in the Rail Yard, which would work, too. All those light poles and fence sections waiting to be hit! But there was more than enough small trees and fences that it took no time at all to get 10 Ultimate Wreckages. I was already to a Great Wreckage when I got the Speed Zone because of that fence, so that made it go all the faster.
The Trial Co-Op Championship: "Ice Gauge" | Cross Country | (A800) Extreme Offroad]
Car Used: Local Motors Rally Fighter
Tune: Kumite - 113 675 257
This took me four tries. Partially due to my fault (missed a checkpoint every time on the first race, and managed to roll in an open field on the fourth try), partially due to having pinballs for teammates. That's just something you can't escape when almost nobody on your friends list has the game. It was a nice touch to see the Drivatars act kind of human, with acts such as running into buildings and missing checkpoints… but for the first time ever, I had a Drivatar dive-bomb me out of a checkpoint. Haven't had that yet. While I kept beansing it up on the first race, this car was very capable in the other two, quite often finishing second to either a Drivatar or a teammate. For something meant for a PGG, it works well as real race build.
Seasonal Playground Games: Mortimer Gardens | (C600) Classic Muscle
Car Used: 1979 Chevrolet Camaro Z/28
Tune: Milkman - 118 610 802
While I could have put snow tires on, I instead went with AWD and vintage race tires. A mild sacrifice in grip for a bit of a power gain, but this thing still handles well. Naturally it slides on the ice, but it still has enough grip in the snow. Did well except for on some snow-drifty hills, but that's to be expected with its clearance.
Side note: I had something I consider odd happen in my PGG session. We started 6-5 for King, then down to 6-4 for the start of Infected, then by the end of it, it was 6-1 in my team's favor. As soon as Flag loaded up, it was somehow 6-2 again, with a completely new person having popped in at a very bad time. Has this happened to anyone else? I would have taken pics, but I wasn't expecting it.
Add a few of us as friends Gator. Ziperr and Turtle invited me to join them for a trial last night and it was great fun. Other than that I drove straight into a barrier in the first race - the foggy conditions seemed to really disorientate me - we have a nice friendly race at the front with the drivatars quite a long way back.