SUMMER
Starts July 4, 2019 at 7:30 a.m. Pacific
This is the first season of Series 11.
Next change: July 11 at 7:30 a.m. Pacific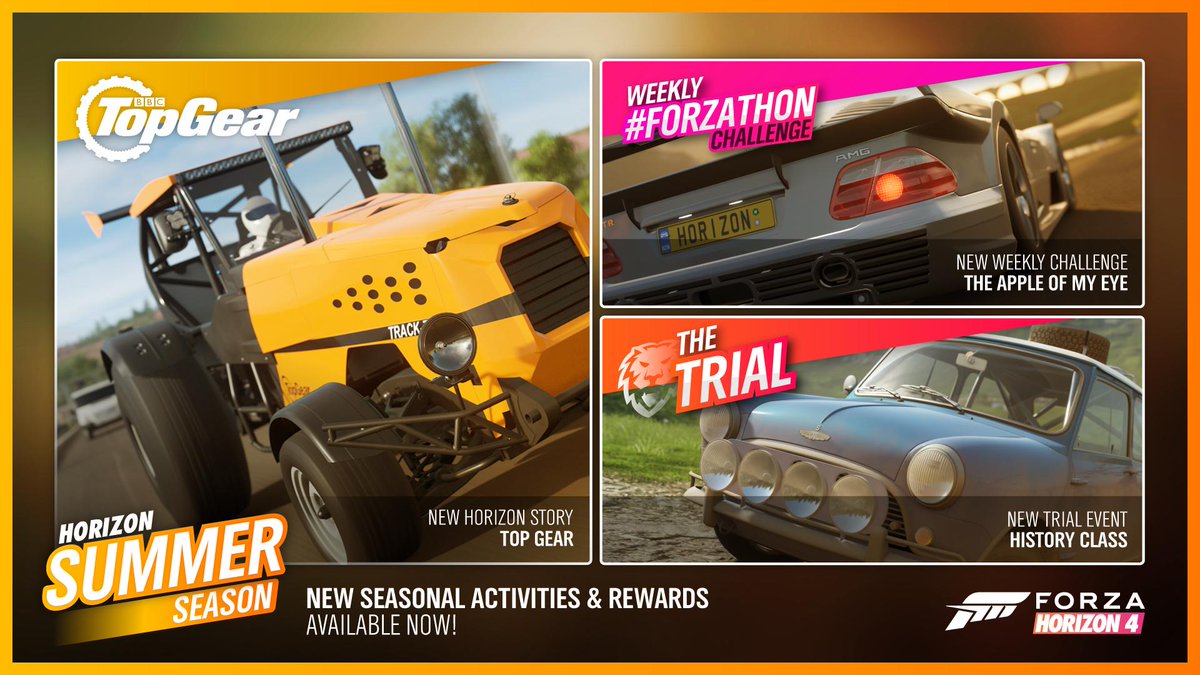 BARN FIND RUMOR:
#FORZATHON SHOP
Note that #Forzathon Shop prices have changed.
625 FP Car: 2016 Alfa Romeo Giulia Quadrifoglio FE (existing Exclusive model)
575 FP Car: 1973 Ford XB Falcon GT (existing Exclusive model)
?00 FP Clothing: Classic Race Suit Outfit
?00 FP Emote: Karate Master
Wheelspins cost this series: 40 FP & 150 FP
FESTIVAL PLAYLIST REWARDS
50% Summer Completion: Alien Morph Suit (existing Clothing)
80% Summer Completion: Maserati MC12 FE (existing Exclusive model)
50% Series Completion: Bugatti Type 35C (existing Exclusive model)
80% Series Completion: "I Beat The Stig" Tee (newly added Clothing)
#FORZATHON
Earn 100 FP from the weekly challenge plus 10 per Daily, plus Bonus for all, double for owning the Lake Lodge
Weekly Challenge: [must be done in sequence to count]
Own and drive any Retro Supercar
Win 3 Road Racing Series events in a Retro Supercar
Earn 3 stars at The Roman Mile Speed Trap in a Retro Supercar
Drive a Retro Supercar for a total distance of 15 miles
Daily Challenges: (72 hrs each, complete in any order or simultaneous)
Earn 3 Wreckage Skills
Closely overtake while racing to earn 2 Great Pass Skills
Earn 3 Landscaping Skills
Earn 2 Speed Skills
Earn 1 Great Near Miss Skill
Earn 1 Ultimate Drift or E-Drift Skill
Combine Air and Wreckage Skills to earn 3 Crash Landing Skills
SEASONAL EVENTS
The Trial Co-Op Championship: "History Class" | Astmoor Rally Trail | C600 Classic Rally
Reward: Classic Race Helmet
Seasonal Playground Games: Mudkickers' 4x4 | A800 Retro Muscle
Reward: Pontiac Trans Am '73 (existing Exclusive model)
PR Stunt: Outcrop Crest Danger Sign | 624.4 feet
PR Stunt: Wesloch Speed Trap | 140.0 mph
PR Stunt: Croft Speed Zone | 110.0 mph
Championship: "FF Spotlight" | Horizon Festival Circuit | B700 Front-engine, FWD
Reward: DS 3 Racing '11 (existing Exclusive model)
Championship: "Forza Italia" | Glenfinnan Chase | S1 Country = Italy
Reward: Ferrari 360 CS (200,000 CR value)
Championship: "Full Throttle" | Derwent Lakeside Sprint | S1 Super GT
Reward: Modern Race Suit Grey
Monthly Events
Horizon Story: The Top Gear Horizon Special (Merc E 350D, Merc 6x6, Top Gear Track-tor rewards)
Monthly Rivals: Aerodrome Cross Country Circuit (experience the Mercedes-Benz E 350 D All-Terrain)
Online Adventure
Completing the monthly events applies their completion percentage to all four seasons in the Festival Playlist.
FORTUNE ISLAND
Events
The Trial Co-Op: "Hyped Up" | The Needle Descent | S2 Hypercars
Championship: "Fortune Teller" | Westwick Festival Circuit | A800 Retro Sports Cars
Championship: "Ride the Storm" | South Beach Cross Country Circuit | A800 Offroad Buggies
Championship: "Headland Rally" | Cliffside Scramble | B700
PR Stunts
Skildar Watch Danger Sign | 492.1 feet
Needle Climb Drift Zone | 260,000 points
LEGO VALLEY
Events
The Trial Co-Op: "Mega Modern Muscle Rampage" | North South Sprint | S1 Modern Muscle
Championship: "Lego Valley Rally" | Brickchester Rally Trail | C600 Classic Rally
Championship: "Summer Saloon Showdown" | Valley View Sprint | A800 Retro Saloons
Championship: "Falcon Supercar Showdown" | Falcon Loop Circuit | S1 Modern Supercars
PR Stunts
Little Brickworth Speed Zone | 160.0 mph