If it helps, the model year of the Porsche Macan T1 Rally Raid is 2015.
Cars that were spotted in Episode 3 Let's ¡Go!
1998 Toyota Supra RZ
1974 Lancia Stratos HF Stradale
2014 Morgan 3 Wheeler
2014 Volkswagen Golf R
1993 Jaguar XJ220
2017 Ford GT
2013 Subaru BRZ
1994 Ferrari F355 Berlinetta
2016 Dodge Viper ACR
1967 Lamborghini Miura P400
2005 Vauxhall Monaro VXR
1970 Chevy Monte Carlo
1966 Cadillac Deville
2008 Mercedes CLK 63 AMG Black Series
In the livestream on youtube I saw them testing sounds for a 88-98 chevrolet k1500 pickup truck aka a GMT400 and honestly that makes me so happy.
Where did anyone see the Subaru Crosstrek Desert Racer because I didn't clock it?
Some new cars were shown as part of the race gameplay:
2018 Rahal Letterman Fiesta
2019 911 GT3 RS
2018 911 GT2 RS
2013 Caterham Superlight R500
2019 Ferrari 488 Pista
2015 Chevrolet Camaro Z/28
2016 Porsche Cayman GT4
2016 Jaguar F-Type Project 7
2014 BAC Mono
2016 911 GT3 RS
Just announced on Episode 5 of Forza Horizon 5: Let's ¡Go!
2020 Toyota GR Supra - one of the cars available to every player at the start of the game.
Hey Turn 10, can you please switch this to a 2021 or 2022 model? The 2020 came with the crappy b58 head with the integrated exhaust manifold, 335hp. BMW stuck Toyota with the entry level head, but the 2021+s got the good head and are rated at 383hp. There was a really nice blue added as a special edition in 2021 as well, and tons of improvements to brakes, alignment, diff software etc.
Porsche 914/6 and Maserati Levante was in the last "lets ¡go!" Livestream
New car reveal: 2021 Sierra Cars RX3
"Kick up some dust and leave behind your rivals in a cloud of smoke. The Sierra RX3 is #NewToForza and it's the perfect companion for any race on our Baja Circuit in #ForzaHorizon5" @ForzaHorizon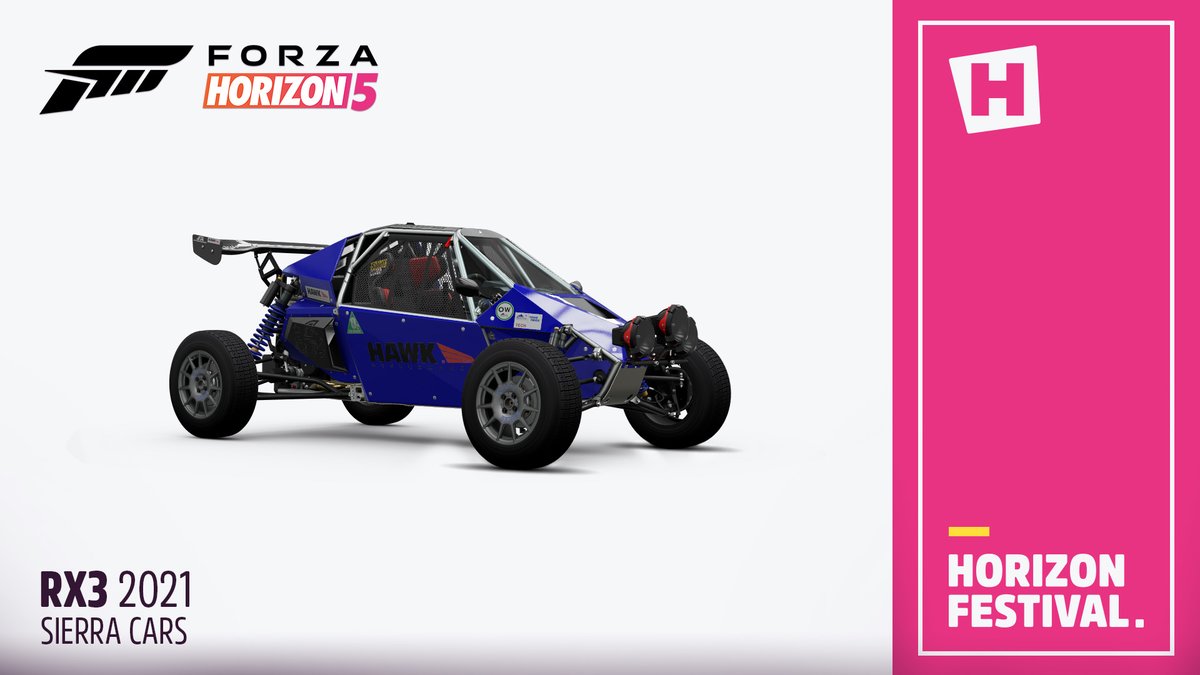 Forza Horizon 5 Unveils New Gameplay and Cover Cars at gamescom 2021
https://news.xbox.com/en-us/2021/08/24/forza-horizon-5-unveils-new-gameplay-and-cover-cars/
@ForzaHorizon Twitter
@Xbox Twitter
Xbox YouTube video
In addition, orders for the Forza Horizon 5 Limited Edition Controller "also includes an exclusive DLC for a Forza edition car" - (1932 Ford Coupe Forza Edition)
---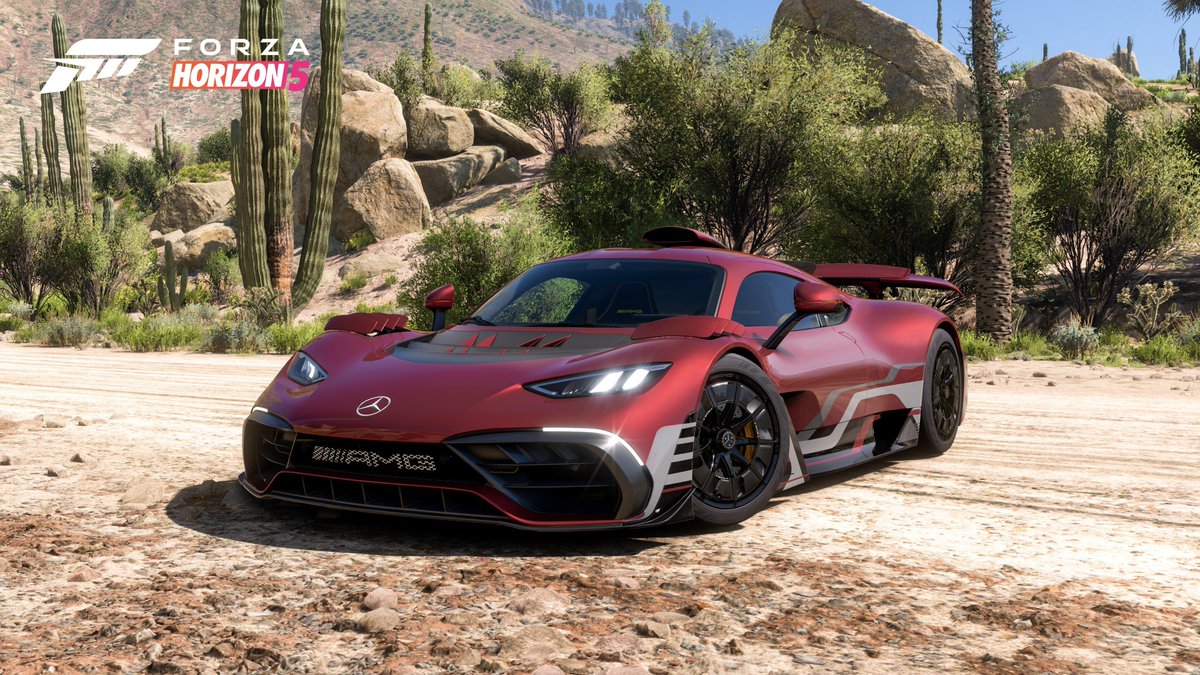 @MercedesAMG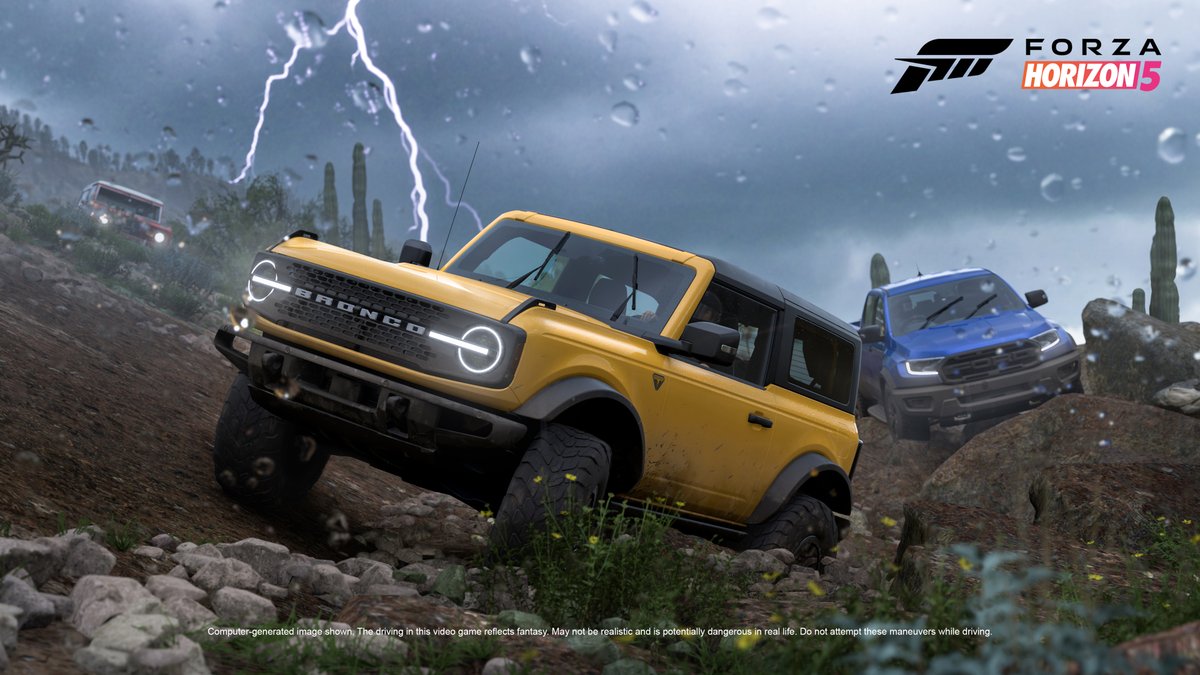 @ForzaHorizon
In the Forza controller edition video, an SUV appears with the headlights attached. I think it's an Audi E-Tron Sportback, maybe the S version.

Official reveal: Mercedes-AMG and Mercedes-Benz launch roster
"Every @MercedesAMG vehicle coming to #ForzaHorizon5 at launch." @ForzaHorizon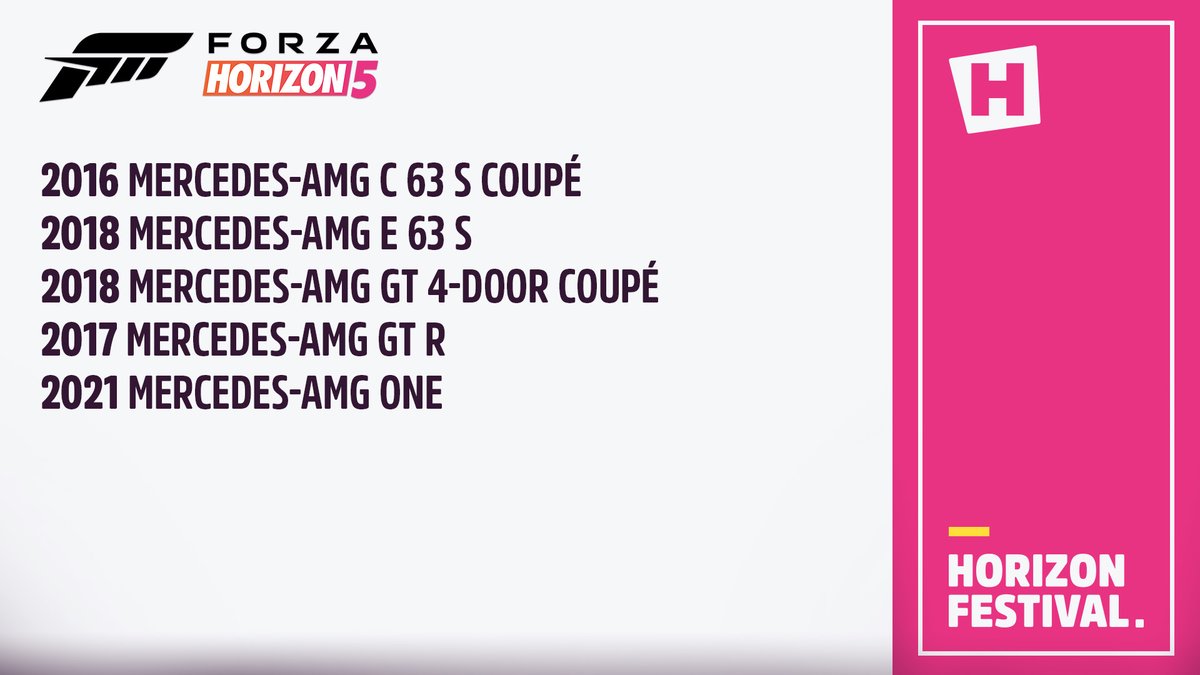 2016 Mercedes-AMG C 63 S Coupé
2018 Mercedes-AMG E 63 S
2018 Mercedes-AMG GT 4-Door Coupé
2017 Mercedes-AMG GT R
2021 Mercedes-AMG ONE
"Every @MercedesBenz vehicle coming to #ForzaHorizon5 at launch." @ForzaHorizon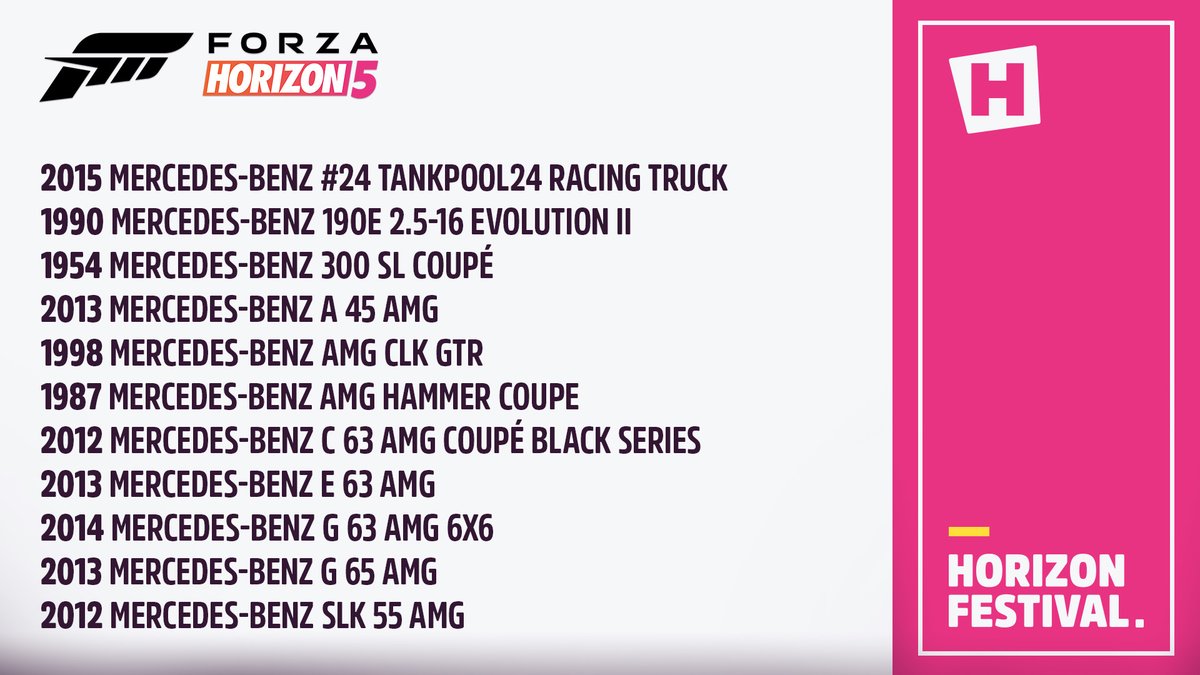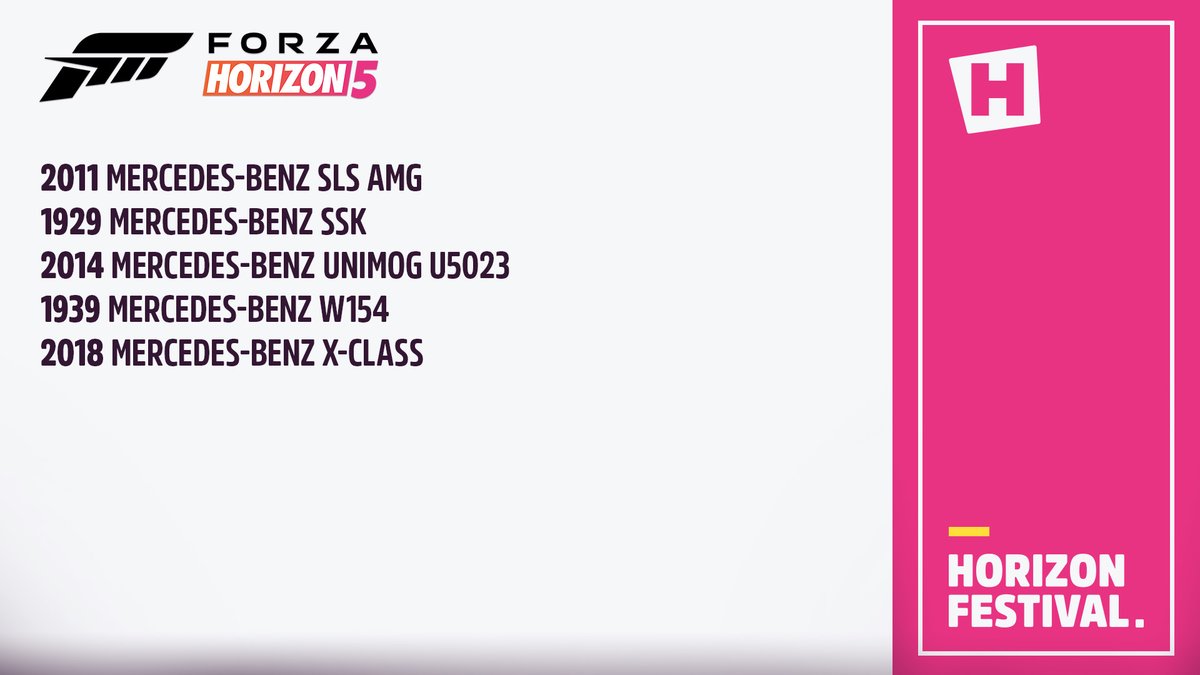 2018 Mercedes-Benz X-Class
2015 Mercedes-Benz #24 Tankpool24 Racing Truck
2014 Mercedes-Benz G 63 AMG 6x6
2014 Mercedes-Benz Unimog U5023
2013 Mercedes-Benz E 63 AMG
2013 Mercedes-Benz A 45 AMG
2013 Mercedes-Benz G 65 AMG
2012 Mercedes-Benz C 63 AMG Coupé Black Series
2012 Mercedes-Benz SLK 55 AMG
2011 Mercedes-Benz SLS AMG
1998 Mercedes-Benz AMG CLK GTR
1990 Mercedes-Benz 190E 2.5-16 Evolution II
1987 Mercedes-Benz AMG Hammer Coupe
1954 Mercedes-Benz 300 SL Coupé
1939 Mercedes-Benz W154
1929 Mercedes-Benz SSK
Official reveal: "Here is every new @Ford coming to #ForzaHorizon5 at launch, starting with the starter, the 2021 Bronco." @ForzaHorizon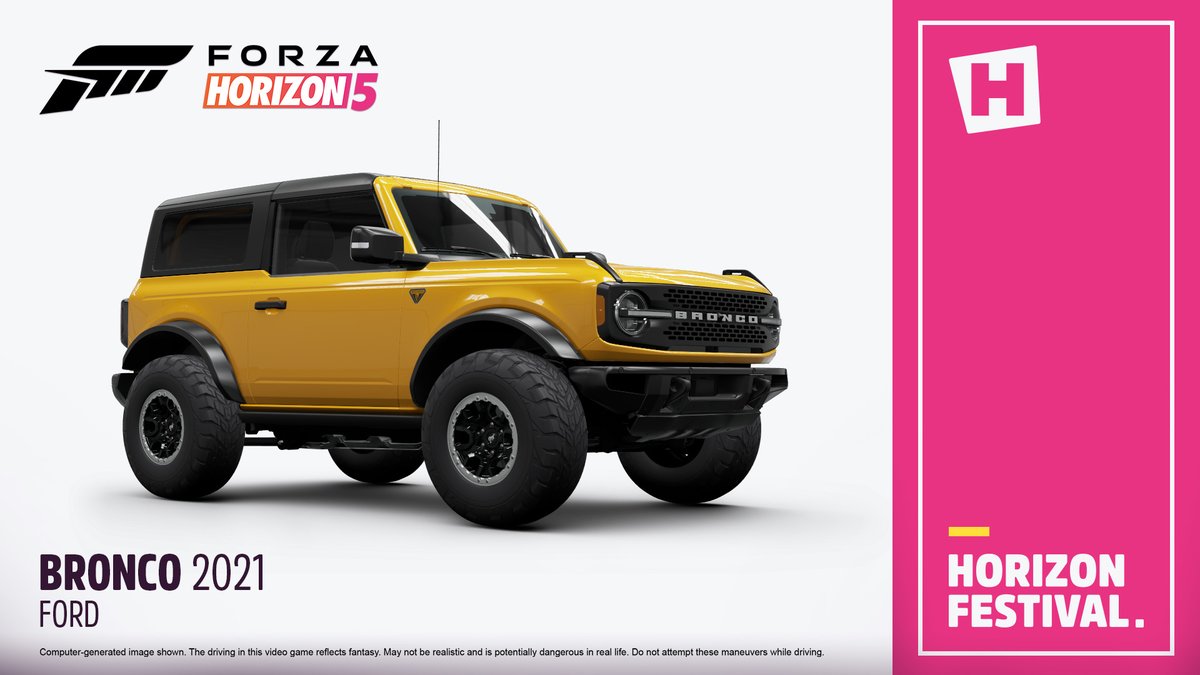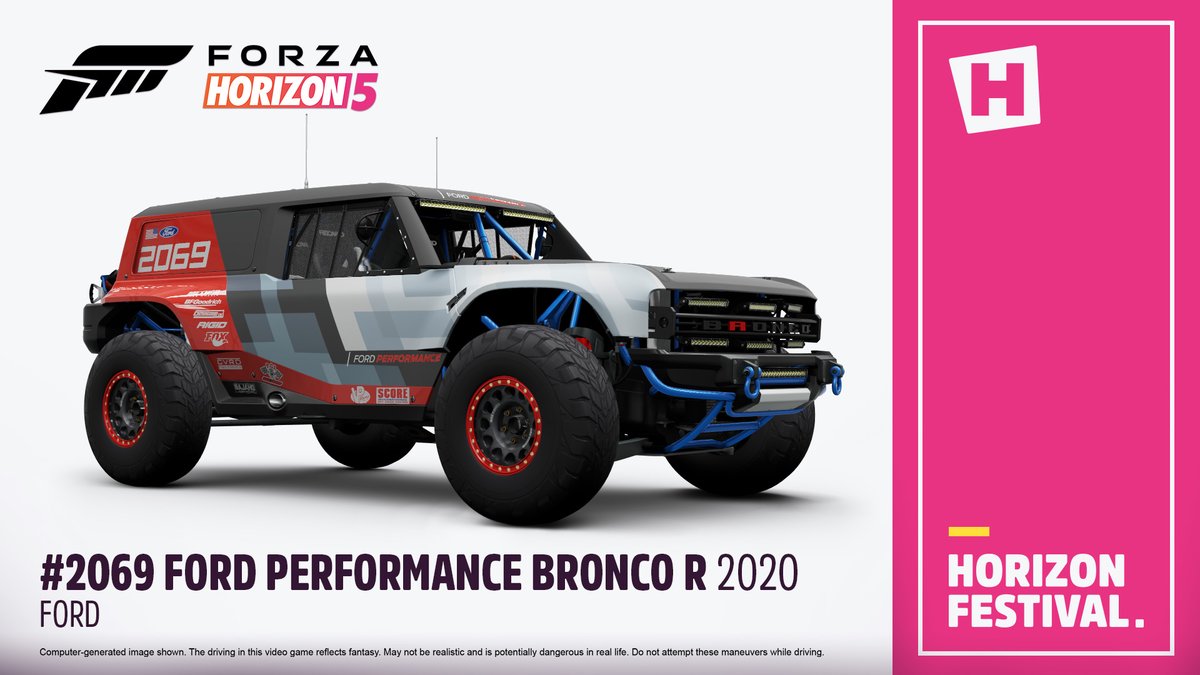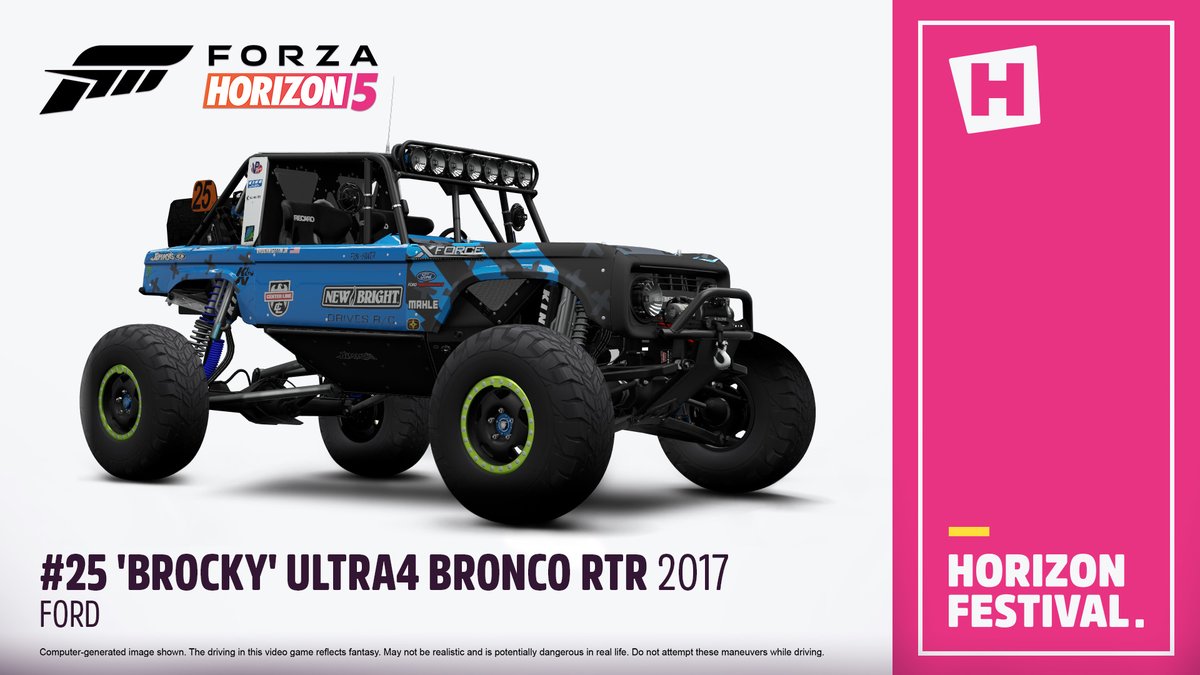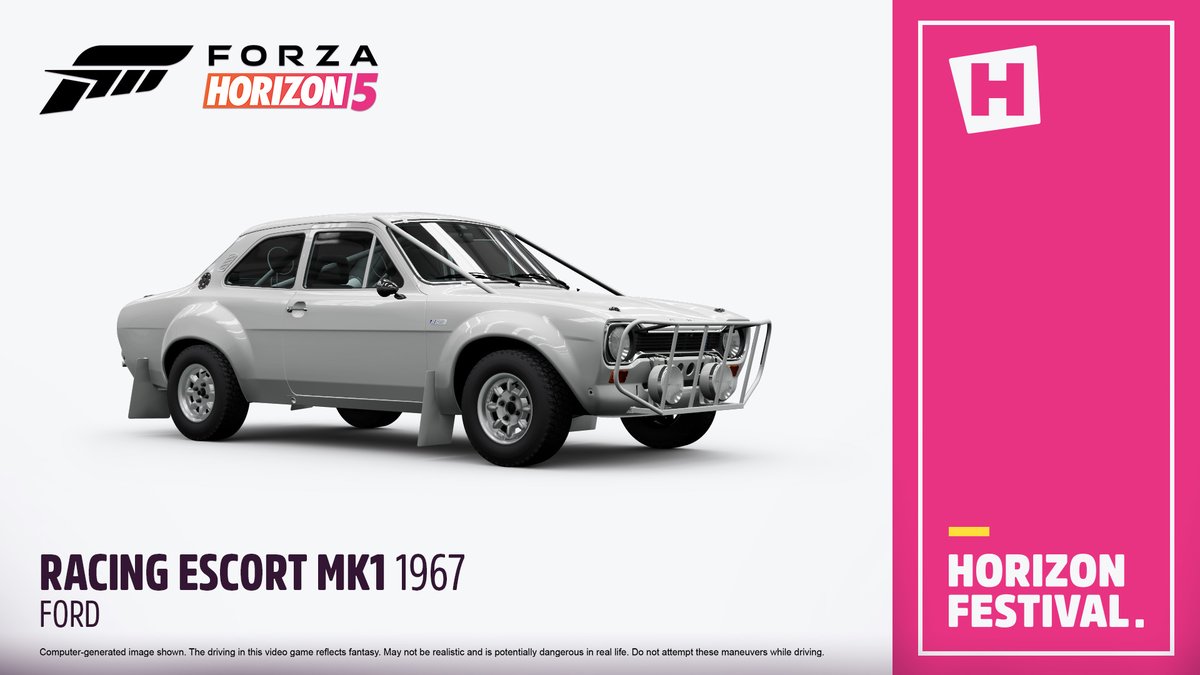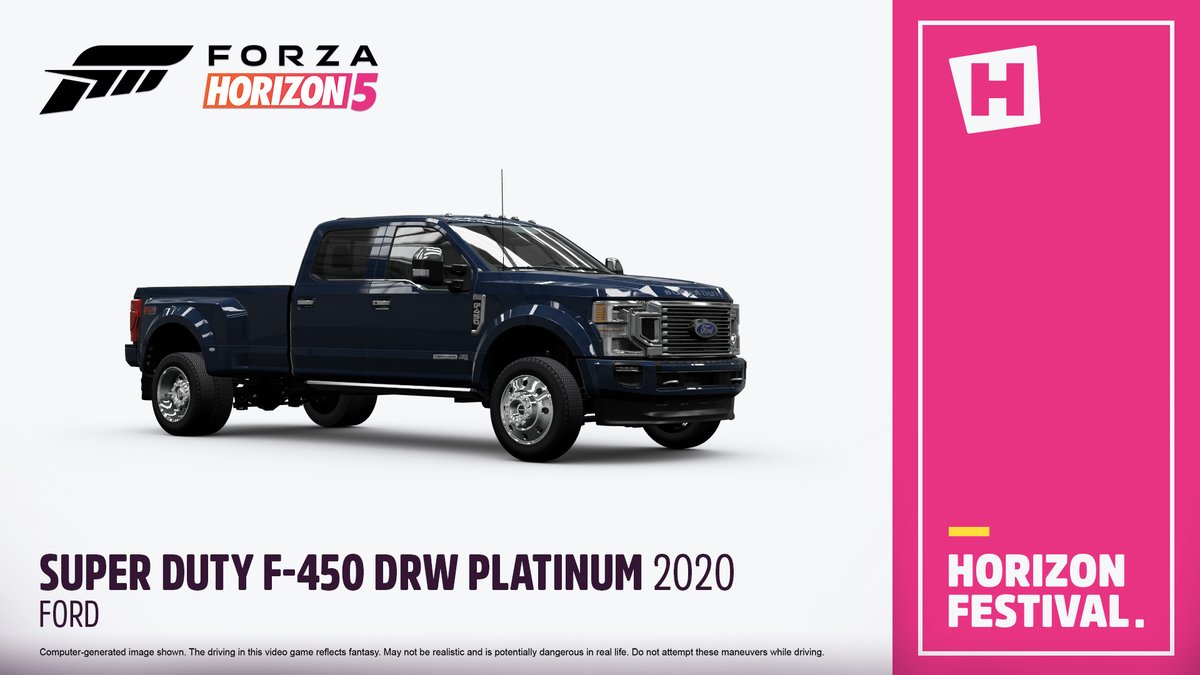 2021 Ford Bronco Badlands
2020 Ford #2069 Ford Performance Bronco R
2017 Ford #25 'Brocky' Ultra4 Bronco RTR
1967 Ford Racing Escort Mk1
2020 Ford Super Duty F-450 DRW Platinum
Forza YouTube - Forza Horizon 5: Ford Bronco Badlands
"The Ford Bronco Badlands is coming to the cover of Forza Horizon 5. Its rugged engineering means it's primed to deliver an exhilarating off-road experience over Mexico's vast terrain. Built with the toughness of an F-Series truck and the performance spirit of Mustang, the Bronco is fully-equipped to go beyond the beaten track and explore every inch of Mexico and its vibrant biomes."
Not gonna lie, getting kind of nervous not seeing any Aston Martin yet.
Lacking the SL65 Black Series is lame.
I am a little disappointed. Especially at Mercedes there are a lot of outdated models that have been given a facelift for a long time. If BMW and Audi are treated the same way, I'll think about canceling my pre-order for my Ultimate Edition after all. There were very few Audis in Horizon 3 and 4. The current R8 didn't make it either, instead we are delighted with the outdated 2016 model. I really hope that in such a modern racing game there will also be current models. The BMW M8 shouldn't be missing either. Volkswagen is also treated rather badly. An Arteon would be perfectly suitable. Just like some VW SUVs.
Ford's list has been released and I'm a little disappointed with it.
Deberti F-150, Mach 1, XB Falcon…many of my favorite cars have been removed.
And in its place we got a new variant of the existing Mk1 Escort.
Yes, I know that Escort has a great history in Mexican rally. Definitely a car that should have been added in FH5. However, I also have a feeling that I am not convinced…
All Fords Coming to FH5